The new Sport England-backed charity is celebrating huge Essex success.
ParkPlay, a new Sport England-backed charity, is expanding and looking to sign up additional parks in Essex following a series of successful launches across the county.
ParkPlay, which offers free, fun games and activities in local parks every Saturday morning, is currently in seven locations including Basildon, Billericay, Wickford, Southend, Harlow, Great Wakering, and Rayleigh, with four more launching before the end of the year. There have been 3,500 attendances to ParkPlay sessions in Essex since it launched this spring.
ParkPlay brings together people of all ages and abilities to have fun together, with activities ranging from football to dodgeball, tag to frisbee. Sessions are tailored by PlayLeaders and vary from park to park, with anyone from the local community welcome to attend.
The national initiative has a close association with the local Essex community, with the first location being Vange Primary School after the headteacher got in touch with CEO and founder Rick Jenner to ask if their playing field could be a venue. Groups of up to 70 now play here each week.
ParkPlay is currently looking for more people passionate about doing something positive for their area to take on the role of PlayLeader, which is a paid, part-time role, where individuals are responsible for leading sessions and encouraging people from the local community to take part.
ParkPlay has a range of local partners including ATF Southend, Active Essex and Basildon Council, who are supporting the initiative to expand into more parks in the coming weeks and months. ParkPlay is also working with the West Ham United Foundation and Changing Lives in Harlow.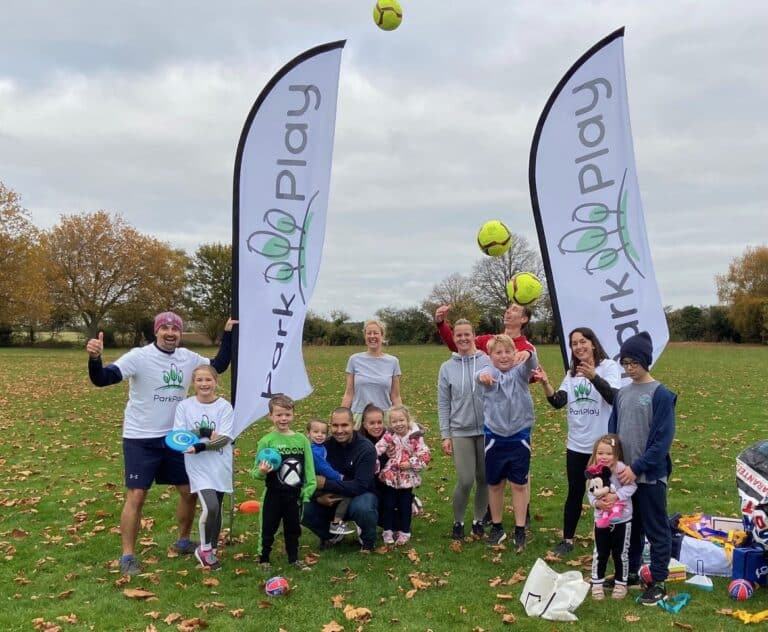 Rick Jenner, ParkPlay CEO, says: "Since we launched at Vange Primary School earlier this year, ParkPlay has gone from strength to strength, with locations popping up quickly across not just Essex but the whole country.
"Our dream is to get to a place where ParkPlays are within easy walking distance for everyone, and that vision is quickly looking like it could become a reality for the near future here in Essex. There's still work to be done to achieve this goal, so we encourage anyone who might be interested in leading sessions to get in touch. There are hundreds of parks in Essex, and we'd love to be in them all!"
Stuart Long, Managing Director for ATF Southend, says: "ATF works with children to raise aspirations and level up the playing field in terms of employment, building key skill sets through sport, culture and heritage projects. We were put in touch with ParkPlay through Basildon Council, and the initiative is such a great way to engage with whole families, as well as young people.
"We connect local people to ParkPlay to become PlayLeaders and PlayMakers, providing employment opportunities and real ownership for individuals in terms of starting up the sessions and running them week to week. I personally head down to sessions with my kids and have met people who I now call friends, so as well as the activities being great to get people moving, there are genuine connections being made within the community that wouldn't have otherwise existed".
Juliette Raison, Relationship Manager in South West Essex and Basildon for Active Essex, says:"We are delighted to see such a strong uptake for ParkPlay in Essex since the launch. Promoting health and fitness is something we're really passionate about at Active Essex and ParkPlay completely aligns with our goals to get communities moving, encouraging regular activity that feels both fun and accessible for people of all ages and abilities.
"The quick uptake in Essex shows the demand for free and fun activities for families, and we hope that more parks and more PlayLeaders are soon added to the team across the county".
Terri Sargent, Chairman of the Communities and Wellbeing Committee Councillor, says: "ParkPlay is an initiative that of ers so much more than an hour of activity each week. In addition to encouraging local people to integrate movement into their everyday lives, it provides a platform for friendships and connections to be made, which are increasingly important after such a difficult 18 months for many.
"Basildon Council looks forward to continuing its support of ParkPlay's expansion into further locations in Essex, and we hope that this early success continues well into 2022 and beyond".
We're recruiting. If you're interested in becoming a PlayLeader in a park in your area, go to the Be A PlayLeader section of the website (park-play.com) to apply, or email hello@park-play.org. The role is paid, part-time and doesn't require any specific qualifications, just the skills to lead sessions and inspire people to take part. ParkPlay will respond to all enquiries. ParkPlay is an entirely equal opportunities employer.